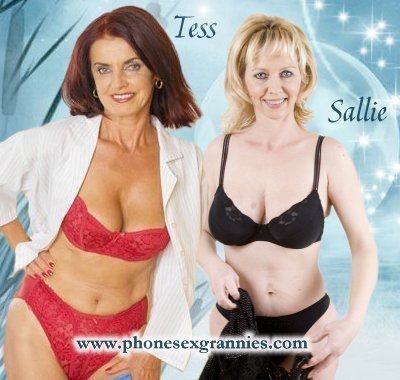 If one phone sex granny can rock your world, just imagine how much more extreme two phone sex grannies would be.
Sallie and I are mature and intelligent women who happen to have no limits and enjoy getting truly down and dirty with horny men of all ages.
We have dressed up in leather catsuits and turned callers into our submissive play toys using strap-on dildos, floggers and other various sex toys as tease and denial tools of pleasure.
We have engaged other granny phone sex lovers in erotic adventures filled with sensual touches and orgasmic bliss.
We have played with each other in a girl-on-girl fantasy and we've taken fetish play to a whole new level.
Anything goes fantasy calls are doubly intoxicating when you bring a second phone sex granny into the mix and Sally and I know just what buttons to push to make your cock twitch and your cum squirt.
Tess – 1-888-878-4332 
Sallie – 1-888-792-3147