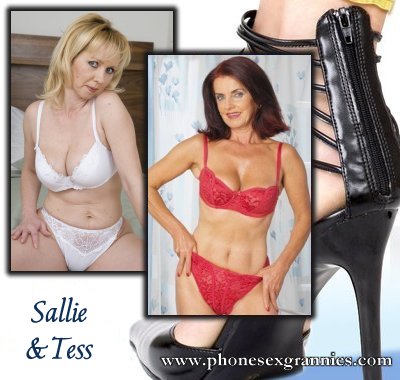 If you're in the mood for a couple of perverted phone sex Grannies to turn you into their submissive bitch boy, Tess and I are ready to play. We're the naughty, anything goes kind of mature women with the experience to make you melt in our hands, and cum in them too with any sensual or taboo two girl fantasy you want to do.
I was sitting on the veranda earlier with a tall glass of sweet tea, thinking about the two girl fantasy we had last night with a naughty submissive sissy boy SM. My other hand was softly sliding over my nipples and found it's way inside my panties and I masturbated thinking about how she worked that big strap-on deep into his sissy ass while I fucked his face with mine. We took turns fucking him with our strap-on dicks and turned him into our anal fuck toy. He's been a naughty boy though so when we thought he was getting close to cumming, we took our dicks away and started spanking him and gave him the CBT punishment he deserved. We both stepped on his balls with our spiked heel shoes, used clamps on his balls and spanked them with a hairbrush too. The whole time he was begging us for more CBT, harder, harsher and we gladly gave it to him too. We're both experienced women when it comes to discipline and both a very determined, perverted phone sex couple when it comes to teaching our sissy anal slut a lesson. It was amazing!
We had such a good time and I'm always in the mood for a two girl fantasy with Tess. Call and tell us your favorite taboo threesome fantasy and cum with us. We'll have a real good time with you!
Click here to visit my private perverted phone sex site with more of my role play stories and use the link to our store to find our nude photos too. The store link will take you to my page and follow the link there to Tess's page. Enjoy!
Sallie  1-888-792-3147  and  Tess  1-888-878-4332