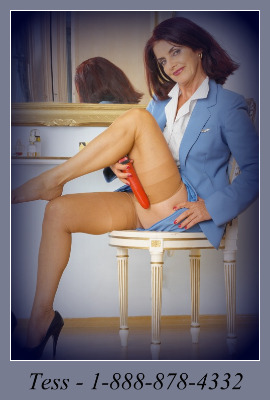 You may wonder why a man would be interested in an intelligent phone sex granny?  Let me enlighten you.  An intelligent phone sex partner is able to stimulate you in ways that might surprise you.  A woman who can carry on a comfortable conversation, no matter what the subject matter might be, can be exciting, exhilarating and yes, even a bit intoxicating.  I love being able to engage a man in an erotic chat but sometimes it's fun to tease him through regular conversation using leading words and hidden innuendos designed to pique his interest both sexually and non-sexually.
An intelligent phone sex partner can work your mind and your body, giving you one of the most stimulating experiences you'll ever encounter.  Your call will be intimate and personal and you'll feel my sensual touch all over you, both inside and out.
I can't wait to share a mutually satisfying and invigorating call with you.  I have no taboos and no limits so why not pick up the phone and see where the conversation leads us today.
Tess – 1-888-878-4332