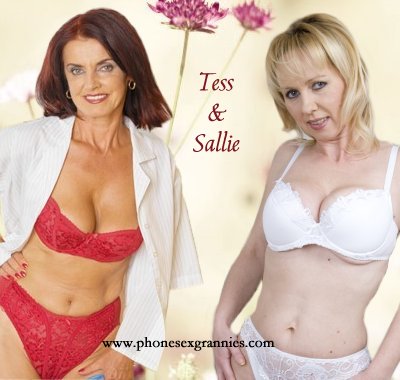 Tess talked about the incredibly hot two girl Granny phone sex role plays we've done and how we can't wait for more. Sissy Chrissy, CW, saw her post and said he has been wanted to do a threesome fantasy with two mature woman and just had to try us out. We're older, mature sisters and share the house we grew up in. Uncle CW was visiting in our incest fantasy and quickly became our Aunt when we caught him dressed up in our lingerie. That's when we found out Sissy Chrissy has been doing this for a long time and we were the first to catch him. He was in for a big dose of tiny dick humiliation too when we saw that pathetic little "winky" of his too. We laughed at him, called him names and slipped into our big strap-on dicks to really have some fun with him. This wasn't his first time because he's a cock sucking slut. Tess fucked him and I made him deep throat our big, thick strap-on dicks and we had one very hot two girl incest threesome. I had a wonderful time with you two and hope we can do that again soon!
If you're in the mood for a two girl Granny phone sex fantasy, give us a call. Whether you're looking for a bit of tiny dick humiliation like Sissy Chrissy or just want a couple of older, mature women to get off with, we're here for you!
Use this link to find my private Granny phone sex site with more of my taboo role play stories and use the link to our store to find our naughty X-rated photo sets too. The store link will take you to my page and follow the link there to Tess's. Check them out and give us a call for your all of  your hot threesome fantasies. Enjoy!
Sallie 1-888-792-3147  and  Tess 1-888-878-4332