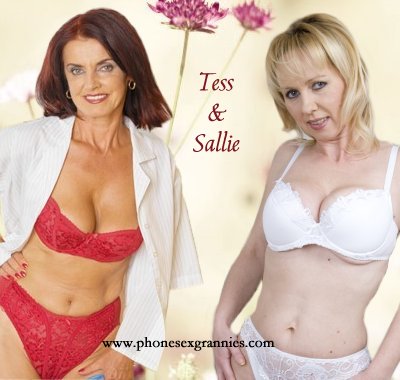 I want to thank Tess and her friend MR for asking me to join in on their taboo phone sex two girl call. I have a leather fetish just like MR and when he asked his Granny team to dress in leather, my pussy was wet right then. We both tied him to the bed, teased and spanked him with our leather covered paddles and we both slipped into a strap-on with a leather harness and were ready to work him over good. He sucked my strap-on like an experienced cock sucker and she fucked him hard with hers. I enjoy a hot, kinky strap-on fucking threesome so much and this taboo phone sex fantasy was fantastic! I hope we get to do that again soon!
If you have a sensual or kinky fetish too and want a couple of mature, experienced older women to role play with, Tess and I are always happy to be your two girl team for all of your fantasies. If you're turned on by a kinky Granny, double the experience and call us for a two girl fantasy. We both want to make you cum with us!
There's more of my naughty fantasies and role plays at my private taboo phone sex site for you and at Tess's private site at telephoneseductions.com too. Check them out if you're looking for an idea for a fantasy you'd like to do with us and visit our store too by clicking the link below. The link takes you to my page where my nude photo sets are on sale and you'll find the link there to Tess's page for her nude photos too. Enjoy!
Sallie  1-888-792-3147  and  Tess  1-888-848-9865