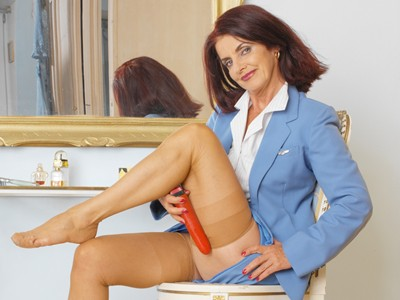 While it's true that men love women with tight young bodies, sometimes they need the mental touch that only an experienced and mature phone sex partner can offer.
With age comes a certain knowledge that is bred only through what we call life.  Life experiences can be shared no matter what age you are and I've found that many men have a need to be taught how to attain a certain level of sexual awareness that only a woman who has actually lived through it can provide. A mature phone sex specialist can help you achieve a mind/body connection that will bring you to new heights in your sexual pleasure.
Imagine putting yourself into the hands of an intelligent, yet sensual older woman,  somebody who can communicate the most erotic thoughts to you in a way that will make you feel as if her lips are touching you, right through the telephone line.  Let yourself fall into my seductive embrace as I lead you through a guided masturbation maze filled with tease and denial and the ultimate in cock control.  Your orgasm will build and you will fight to make this euphoric feeling last as long as possible, before you finally cum in the most amazingly forceful way.  I will leave you breathless and eager for more.
If you've ever wondered what a kinky cougar can offer you, then dial me and enjoy a unique and exceptional mature phone sex call today.
Tess – 1-888-878-4332