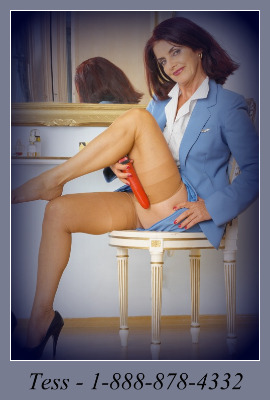 Call me for intelligent phone sex and let me fuck your mind AND your body!  I have a very sexy way with words and I know how to make you "feel" our calls from the inside out.  Your brain will become absorbed into my soft, sexy southern voice and your body will respond with just as much intensity and you'll experience an orgasm that will give you a rush like you've never felt before.  It's a mind and body connection that can only be achieved when you call an intelligent phone sex playmate like me.
I'm an experienced older woman, a mature granny to be exact, who has been around long enough to know how to get into a man's head.  I love using my words to seduce and my hands to produce….. if you know what I mean – LOL!
Experience an intelligent phone sex conversation for yourself – once I get into your head, you'll never want me to leave!
Tess
1-888-878-4332
My Blog:  www.TelephoneSeductions.com