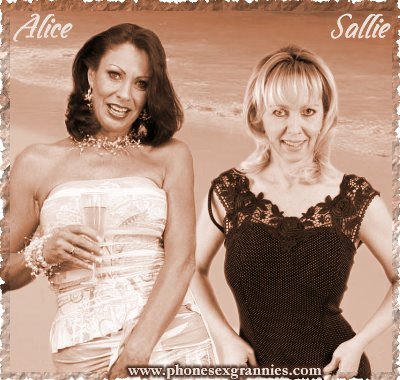 Add a friend to our fantasy like BH did and turn your mature phone sex role play into a hot two girl threesome with Alice and me. He thought since I was an older woman, a Granny living in a retirement community, wouldn't give him any trouble when he broke into my house. I have an intercom set up with my friend and neighbor and we keep it on all the time. She knew I was in trouble, came over and tazed him so we had a chance to tie him up and take control. This isn't the first time she's been my accomplice when someone broke in so we knew just what to do. We tied him over a chair and when he woke up we took turns fucking his thieving ass with our big strap-on dicks. The funny thing is, he liked it! Our naughty thief is a fucking sissy! We forced our big dicks in his ass and mouth and fucked him until his sissy ass was sore and begging for mercy. I called a few guys over too and let them go at BH while he told us his pathetic story about targeting Granny Alice and I because his own Grandma abused him. We didn't believe him for a second and we turned him into a cum eating slut, making him swallow every load from our friends. Our two girl threesome was amazing. Any time you're ready for two older women who work a mean strap-on, we're ready for more. We make a great team for your accomplice role plays.
Forced or willing, if you have a cum eating fantasy and are in the mood for a hot two girl threesome, we're here for any fantasy you'd like to do and are a couple of mature phone sex women who like taboo fantasies with no limits.
The link to our store will take you to my page and there's a link there to Alice's page where our very naughty X-rated photo sets are available for you. Use this link to my  mature phone sex private site too for more of my naughty role play stories and give us a call to add your threesome fantasy to our blogs. Enjoy!
Sallie 1-888-792-3147  and  Alice  1-877-440-4685